Photo Frame Collage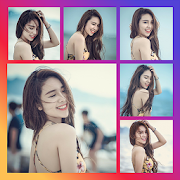 Photo Frames Collage is best frame collage with more than 200 frame and grid high resolution frames. Photo Frames Collage edit your photo with frame and text. Photo Frames Collage make your photo collection is very beautiful with lots of frame and grid, easy to design, use, and share, perfect for you to create your photo collection.
Photo Frames Collage is total free with simple user interface and beautiful frame, grid and text.
Photo Collage Frame help you create photos collage frame with easy way with grid, you can share your photos he has designed for friends, frame and Grid has all the applications, you do not need to download frame or grid.
How to use:
1. Choose Grid
2. Choose Your Color
3. Choose Sticker
4. Save and Share your collection Social: Facebook, Twitter,Instagram …
Just download this application immediately, to be able to create beautiful collections and exquisite, yet so simple. Thank you