Cut Paste – Photos Eraser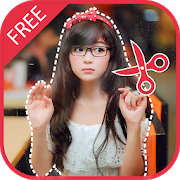 Cut Paste – Photos Eraser help you create custom photo funny , romantic, truly impressive…
♥Cut Paste – Photos Eraser create photo by cutting from photos and paste content to other photos. You can edit or make up photo by more tool in app.
♥You can cut content( Animal, flower, face, body, or a part body … ) and paste to other photo very easy.
♥ Cut Paste – Photos Eraser is a best photo editor & cut paste application ,help you have awesome photo collage from multi cut photo you took. With Cut Paste – Photos Eraser, you can combine your ordinary photos to create beautiful collages. ♥
♥ Includes over 50+ frame, sticker with photo grid, square, heart, star, enough for you to combine the photos the way that is the most beautiful.
♥ Cut Paste – Photos Eraser allow you to add text, stickers to your custom photos.
How to use:
1. Choose your photo you need cutting.
2. Crop and Cut.
3. Choose photo to paste content.
4. Add your notes: draw or with text.
5. Save and Share your Collection in Social.
Features:
♣ More photo border templates and background HD.
♣ Import photo from Gallery or Camera apps.
♣ Touch gestures to resize, rotate.
♣ Add text, stickers to the photo
♣ ♣ Share photo to Instagram, Facebook, Twitter and other socials.
♣♣♣ More beautiful collage templates will be always update ♣♣♣